Cowboy Sorcerer Cover!
I'm happy to report that I've now got all my covers designed for the first season of Jeremiah Jones Cowboy Sorcerer. I decided to go the contest route over on 99 Designs. If you're interested in my experience with 99 Designs, please check out the post Are Cover Contests Worth It? on my writing website,  The Writersaurus.
The designer, Pintado, was super accommodating. He even agreed to do the background a different color for each so I have a (sort of) unique cover for each episode. Check them out below (click to enlarge), and let me know what you think of them in the comments!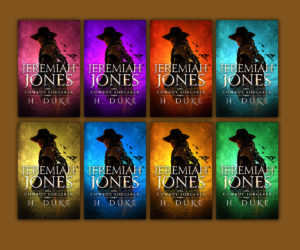 Note: you can read episode one FOR FREE on Wattpad, where I am uploading a new chapter every Friday. Be sure to follow, comment, and vote!