What do you want most in the world? Would you trade your free will for it?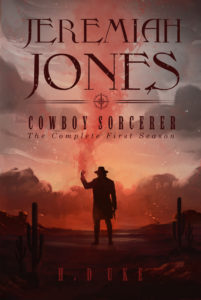 Buffy the Vampire Slayer meets Stephen King's Dark Tower series in the Sonoran Desert!
Jesse is a small-town mechanic struggling to keep his deceased father's auto-shop open. Jeremiah is a failed wizard with a violent past who just wants to go home. When Jeremiah rescues Jesse from a rumored drug lord and Gang Kingpin who seeks to control him through magical means, Jesse is thrust into a world of magic and sorcery that he never dreamed existed…
Jeremiah Jones Cowboy Sorcerer is a work of serial fiction (like a television show for your ereader!). Season one consists of eight episodes of approximately 17,000-20,000 words each. This listing is for the omnibus that contains the entire first season.
The Complete First Season now available in one volume! Purchase now to save 60%!
Kindle Unlimited subscribers can still read for free here.