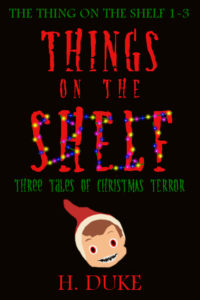 "Survive the holidays" takes on a sinister new meaning…
All three tales of Christmas terror in one volume! Things on the Shelf includes:
The Thing on the Shelf: A Tale of Christmas Terror (#1)
When thrift store worker Erin finds a posable elf doll in a box of donations, she gets into the holiday spirit and starts posing it around the store. Everything is candy canes and sugar plums—until the elf starts moving on its own. Are her co-workers playing tricks on her, or is she going crazy? Because it's just not possible that the elf doll is alive… right? Erin must find out the truth, or she stands to lose more than her Christmas bonus this year.
The Thing in the House: A Second Tale of Christmas Terror (#2)
Seven-year-old Bianca can't understand why Santa brings her friends everything they ask for every Christmas, but brings her cheap toys from the dollar store. So when she discovers an elf doll at one of the houses her mother cleans for a living, she begs it to intervene with Santa on her behalf. But when the elf starts to move around the house on its own, she may get more than she asked for this Christmas.
The Thing Behind the Door: A Third Tale of Christmas Terror (#3)
It's gearing up to be a lonely Christmas for Jake Kensington. He may be the richest man in town, but his wife is dead and his son thinks he's crazy. He won't even get to see his granddaughter on Christmas.
When he wins a strange doll at an auction, it lifts his spirits… until items in his house start to move when no one is home and strange noises echo the halls at night. Jake just might discover that money really can't buy Christmas cheer… but it can buy Christmas terror!
Things on the Shelf includes all three stories in the Thing on the Shelf series. If you're in the holiday spirit but also appreciate a good scare, then you'll love these three tales of Christmas terror from horror author H. Duke.
So give yourself an early Christmas fright—er, I mean present—and purchase Things on the Shelf: Three Tales of Christmas Terror today!
Purchase the print book and download the Kindle version for free! Keep one for yourself and gift the other to a horror fan you love… or maybe a scaredy-cat you hate…